Blogs

Just watched the premiere showing of Diary ng Panget the other night in SM Megamall Cinema 9.
Ang saya! Ang bata! Ang bagets! Ang summer fun!
I am not a legit movie reviewer but let me share with you my opinion as a simple moviegoer.
The movie was based on the best-selling book of "have you seen this girl," Denny, on Wattpad.
I have many friends who were able to read the book, and they were all raving about it. Success! Kaya heto, movie na.
Director Andoy Ranay captured the teenybopper feel of the movie. The storytelling was fluid and clear.
Director Andoy Ranay will lead you back to your simple self and enjoy just being you as the story progresses.
The lead actors Nadine Ilustre and James Reid are a perfect combination on screen.
The audience literally was screaming out of "kilig" especially because of James Reid.
Iba rin naman ang "arrive" niya on screen.
His killer abs is really a killer. If I were younger… whew! Hahahaha!
Relate ang madlang people sa characters on screen. Why? Nadine wasn't projected as beautiful. Kaya nga Diary ng Panget.
Even after her transformation 'di naman siya naging Cinderella beauty. Umayos ang mukha pero 'di naman papuntang beauty queen.
Kaya naman, relate sila ate, nanay, tita, kuya, etc.
'Di naman ako kagandahan kaya relate ako. Hihihihi…
Nakaka-teenager feeling ang movie. Sa babaw ng movie, may malalim siyang gustong sabihin.
The movie also emphasized what real beauty is—the beauty that is coming from within. Naks!
It's a reminder to all of us that "what is essential is invisible to the eyes," as Ruffa Guiterez quoted from the book, The Little Prince.
These days, every thing we see on TV and and the big screen is all about enhancing physical beauty. But the basic values that we were taught when we were younger was that beauty is from within.
I remember when I was much younger. Lahat ng mga crush ko yung mga kuya na mababait at hindi naman yung mga gwapings na kuya-kuya.
'Di ba, ganun naman talaga, we get attracted to the nice and kind people pero we end up with the not so nice people. Bakit nga ba? Hahahaha!
Even in some Koreanovelas, the lead stars are not so pretty and handsome. But the characters sort of grow in you. The not so handsome lead actor eventually becomes handsome because the audience falls in love with his character. The not so pretty lead actress eventually becomes pretty because the people see goodness and sincerity.
In the Diary of Panget, the handsome and hunk features of James Reid is in contrast to his rude and ugly attitude. Swak naman!
Cute pa rin naman kahit bad siya kasi guwapo naman talaga.
It's interesting to watch Yassmi Pressman. I love her accent. I like the idea that someone with such an accent can also speak Tagalog fluently.
The innocent looks of Andre Paras in contrast to his towering height is perfect for his character.
We know that these kids have more to give. But for this movie, what they gave is just right for my taste and for what was being asked from them.
The movie was also visually entertaining and beautifully crafted by production designer Gwyn Guanzon. The artistic lighting of Pao Orendain enhanced the production design and sets.
Opo, kaibigan ko sila…pero 'di ko naman sila pupurihin kung di naman talaga maganda ang trabaho.
I have to commend the good choice of locations by the location manager. The mansion that was used as the house of James Reid is the vacation house of former vice president Doy Laurel. Gandahhhh!
Pero true din naman talaga, aanhin mo naman ang magandang bahay kung bwitre naman ang mga nakatira. Kaya naman, the character of Nadine Ilustre was a breath of fresh air in the beautiful but lonely house of James.
I think heto talaga ang kailangan ng earth, mga good-hearted people para masaya lahat. Ang totoong panget talaga ay ang taong may masamang ugali. Well, I have to admit maraming times na panget ako. Kaya try ko na to be good para always maganda…nakakabata. Kayo din try din ninyo. Yun na!
PS. Watch na ng Diary ng Panget para masaya!
I missed blogging, dear friends. I missed all of our dear PEPsters.
I have to admit it's hard to blog if you are not doing anything.
It's hard to blog if you are doing so many things.
It's hard not to blog at all.
Yeah, I've passed all that stages these past months that I haven't submitted anything to my PEP family.
Ang dami ko ngang pinalipas na magagandang pelikula, live shows, even my shows, dear people…hot issues, parental concerns, child-care remedies, observations, opinions, etc.
But this one, I cannot just let it pass without writing about it—being a mother of a homosexual.
I am doing a daily show for TV5 entitled BEKI BOXER. (pasimple, nag-promote…)
I can't really figure out if this a teleserye or a sitcom.
It was really supposed to be a once-a-week sitcom. Then after showing it to the management, they decided to make it a daily thing.
The attack of the series is very light, still comedy. The subject matter and conflicts are quite serious and heavy.
But in general, every thing is tackled very lightly to lighten the situations.
I just realized how serious and difficult my "baklita friends" have been going through.
Well, not everyone I guess had to go through discrimination. But it's inevitable for every gay to reveal to their parents their true identity.
I guess kanya-kanya rin naman talagang journey. Some are blessed that the parents easily accept that their kids are gay. Some parents are in denial. Some parents know their kids are gay but prefer not to talk about it. Some parents try to do things that they feel might change their children's preferred gender. No matter what, the parents will accept and will love whatever and whoever their kids are.
As one of my gay friends said, "It's not something that they just decide to be". It's just is.
Another gay friend told me "It's not a sickness. Hindi naman siya lagnat na puwedeng inuman lang ng paracetamol".
While taping for Beki Boxer, I remember the line of Tirso Cruz III from the movie Bekikang, "Hindi kita binabago anak. Hindi kita tinuturuan ng karate para maging lalake ka. Alam kong bakla ka at tanggap ko na iyon. Tinuturuan kitang magkarate para mapagtanggol mo ang sarili mo. Mahirap ang buhay na pinili mo. At hindi naman puwede nandun parati si Tatay para ipagtanggol ka. Mahal na mahal kita anak."
I play the mother of Alwyn Uytingco, Beki Boxer himself, and, indeed, the journey of the parents is another story that should not be taken for granted.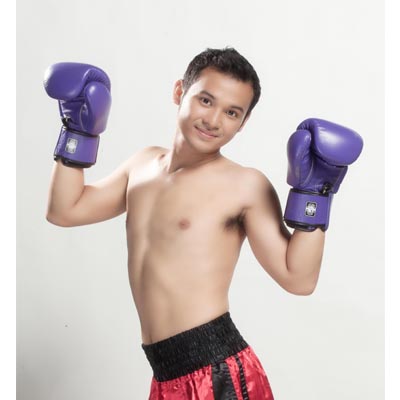 It's true that the parents know their children. The mothers specially feel their children. Even if the child denies it to the whole world, a mother would know. Kanya-kanya na nga lang talagang atake kung paano i-handle. Interesting.
Every taping there's a new learning, and I'm still learning and discovering so many things. I can't claim that I understand my beki friends more. But I feel for them more than before. Hand in hand journey pala talaga.
Girl, boy, bakla, o tomboy, it doesn't really matter. What matters is how one lives his life. Meaning, ikaw ba ay nakakatulong sa lipunan o pasanin ka ba ng lipunan? Heavy ba? Pero ganun talaga, respect comes with responsibility. Love comes with respect. Tama ba? Parang ganun…
True confession: Ang hina ng trabaho bilang artista on TV and movie for me. Hmmm… tumatanda, tumataba, etc. etc. 'Wag na natin elaborate at pa-nega na, hahahaha!
Kaya naman bilang true nanay and tatay ako sa totoong buhay, I have to find means and ways to earn.
With a business partner, I put up a bag business. We started October of last year online. Hay naku! Iba ding mundo ito. I shall write more about it on my next entry. Pero pumasok na kami bilang concessionaire sa Fairview Terraces. My good friend Carmina Villarroel was the one who invited me to join. She also has become a concessionaire of Wellworth department store, a joint venture of Rustan's and Ayala. If you are interested please check out online Muniz shoes of Carmina. Paki-check na rin yung www.facebook.com/qbagsbycandy and www.instagram.com/qbagsbycandy
Bilang closing, ang masasabi ko lang, when you are down, the only way to go is up. Go! Go! Go! Wala lang… parang masarap lang sabihin.
Congratulations to all graduates! Be the best person that you can be. Go!
Hello, PEPsters!
I know late na ang entry na ito for the season. But please bear with me and let me share my wonderful experience.
For the past seven years, every Holy Week, I have been teaching kids at the Easter vigil paandar.
Yes, paandar, kasi di naman normal yung ginagawa ng mga children sa loob ng church. Ayun na yung nag-cheering sila, nag-"Pyramid" at "Funky Town," saka nagsayaw sa music ng Black Eyed Peas sa loob ng church.
Marami akong na-encounter na different kinds of kids of different age (mula 3 to 15 years old), backgrounds, and living conditions.
Meron din namang lagpas sa age limit. Merong sobrang yaman at sobrang kapos din naman.
The first time kong nagturo, akala ko mahahati ang membrane ko kasi more than 200 na bagets ang sumali.
Heto na, bilang most of them come from less-privileged areas, I thought mas masakit sa ulo sila turuan. Actually, hindi naman pala. May I follow sila sa instructions more than the well-off kids.
Nag-request ako sa mga bata if they can take a bath before coming to practice.
Say ng bata, "Wala po kaming tubig sa umaga." Ang lapit lang ng mga bahay ng mga batang ito, ano nangyare? Quezon City lang Ito nakatira, anyare? Meron ba ako dapat ireklamo since these kids do not enjoy the basic necessities of life.
During the first year, kung anu-anong issue ng mga bagets ang na-encounter ko.
Andiyan yung nag-away dahil natatakpan siya ng bata sa harap. Andiyan yung magkaaway yung magulang nila kaya di rin sila puwede magtabi. Ano ba yan?
But what shocked me the most was how the kids talk. They have no freakin' idea what cursing is, but say the bad words as if they're adjectives taught in school.
Cursing is second nature to these kids. Why? We cannot blame the children. They are children nga! E, kamusta naman ang mga magulang na almusal ang pagmumura?
After seven years, I have seen the difference between kids then and now. I'm not referring to their age. It's how they talk and react to situations.
Ang mga bata ngayon, lahat pala-sagot and pilosopo. I have nothing against gays. But kids proclaim these days their gayness at a very early age. Young boys come in clip and lipstick. Okay lang ba yun? Baka nga ganun na ang trend ngayon?
Even the girls answer back pa-witty. I am guilty. I am a contributor to the way these kids talk. Media has a big role in how children are. I am not blaming everything to media. The parents also have a great responsibility in raising their children.
Despite and in spite of all these, the kids had touched me. How? Di ko ma-explain. Ganun naman pala talaga ang nata-touch, di masyado kailangan ng words.
The purity and innocence of the children are just so contagious. Impossible na hindi ka maapektuhan.
There is so much joy. They are so eager to learn.
Sa totoo Lang, mas madali pa kausap ang mga bata kaysa sa matanda. Straight to the point, walang paliguy-ligoy. Di ko kailangan makiramdam dahil as is na sila. No pretensions.
This year, meron pa akong bonus.
My son Quentin joined the celebration. He diligently and obediently attended the practice. He tried to follow the instructions.
Thank God there were two older girls who guided him.
He obeyed the girls. That's a big load off my shoulder.
This year, Christian Songs mixed with party rock were our inspiration.
We changed the lyrics of "Party Rock" to "Party ng tayong lahat/ Everybody let's have a good time/ Coz tinalo ni Hesus ang lahat/ He is risen… Alleluia!"
In fairness, pasok naman and napa-indak ang madlang people.
Come performance time. I had to deal with a dilemma. 150 kids nga naman vs. 1 Quentin? I had to guide the 150 kids!
Candy: Yaya, pwede paki-video si Quentin. One press lang ito, record na.
"Para sigurado, dalawa ang pinakiusapan ko, "Bro, pakikunan yung sayaw. Si Quentin ha."
And so kampante ako na mapapanood ko si Quentin after.
Heto ang na-video ni Yaya:
Anong nangyare, Yaya? Eight minutes ang presentation bakit 10 seconds lang nakuha?
Galit na sagot ni Yaya, "'Yan lang?! Nangawit nga ako sa pag-video, e. Tapos 'yan lang?"
Saka napansin ni Yaya na di ako nagsasalita.
Pero bumawi naman, "Pero mam, ang galing ni Quentin sumayaw. It's the thought that counts."
The thought daw kasi, magandang isipin na sumayaw ang anak ko kahit papaano.
Naging okay kasi pina-video ko naman as back-up sa barkada ko.
"Kamusta, nakunan mo ba lahat from the top?"
Mayabang na sumagot ang kaibigan ko ng, "Of course."
And I was so happy, "Thank you talaga at nag-video ka. Nakakatuwa ba panoorin si Quentin sumayaw?"
Heto ang sagot niya, "Di ko nga alam kung nasaan siya, e."
Magagalit ka pa ba? Hindi na… Sayang sa oras.
If you want to check out the Easter Vigil Presentation of the kids, here it is…
This Easter, I hope we did some looking back.
Then, live each day to the fullest and worry not about tomorrow.
Sabi nga nung isang bagets, "Gagalingan ko po ngayon, para may pondo ako bukas."
Totoo naman, dahil nakita ko ang gigil at galaw, nilipat ko ng pwesto sa harap. Nakipagpalit doon sa batang tamad na tamad gumalaw.
Kaya give ako nang todo today, para may pondo ako bukas, at ganun araw-araw hanggang madami na akong pondong naipon na hindi ko napapansin. Bongga!
Hope you all had fun last Easter! Nabuhay si Kristo kaya go! go! go! Yun na.
I received a letter from the management of Music Museum last week requesting for photos of my previous shows.
Panic! Panic! Why?
The pictures had to be submitted tomorrow. Agad-agad?!
I went through my files and got stuck… Hanggang sa araw na ito, di pa ako umaabot dun sa pictures na kailangan ko mahanap.
Pero totoo talagang pictures can move and capture the moment. It can retell a lot of things happening when you took the shot. There's the event itself, the unspoken thought in my mind, and also the people's reaction. Ang dami ko pang naaalala na mga behind-the-scene pics, conversations, all happening at the same time.
Yung mga plano ko noong mga panahon na yun, natupad ko ba? Maliban sa sarili ko at mga tao sa paligid ko, meron ding tumatakbo sa utak ng kumuha ng picture. Bakit siya ang kumuha ng picture? Bakit di siya kasali?
To top it all, maliban sa nangyayari sa akin, merong nangyayaring mga kaganapan sa bansa at sa ibang bansa. Di pa yata uso noon ang viber o ang WhatsApp. Paano nga ba kami chumichika at saan kami pumunta after kinunan yung picture? Ano ba ang pinanggalingan ng picture na ito? Hahahaha! Baliw ba ako? Slight.
Pero aminin niyo na totoo ang mga sinabi ko na naganap at nangyari nung kinunanang picture. Daming kuwento. Daming nangyari. Pero aaminin ko na napako ako sa three large plastic envelopes…
Ang wedding pictures ko, hanggang ngayon ay hindi ko na-submit sa photographer namin yung napili na pictures kasi nga, naghiwalay na. Hahahaha! Nakatipid yung photographer namin sa album. I had about 1,000 pictures. Walang OA. Ang dami talaga. Merong numbers sa likod at nakita ko yung 1001… Hahahaha!
Siyempre, wag niyo na po hanapin yung groom. Kung ako nga, di ko na makita ngayon, kayo pa… Ganda at saya lang naman ng pictures kaya I want to share. Dedmahin niyo na yung okasyon na wedding at tingnan na lang yung moments captured. This is actually the first time I am posting my wedding pics. Okay na naman ako kaya puwede na. I'm sure okay na rin naman s i ex. Sayang naman yung event. Magamit ko man lang sa blog. Hahahaha!
Ang dami ko pang interesting pictures. Sobrang interesting, di na puwedengi-post. Next time pag may oras mag-scan, post ako ulit. Yun na. Go!
Bargain. Sale. Discount. Wholesale… here it is…
I had a few days off, and decided to visit the Shenzen of the Philippines.
I left Quezon City at around 9:30 a.m. and reached the 168 vicinity at around 11:00 a.m. Parking is quite difficult.
I came with a friend who showed me the ins and outs of the area.
We parked at the mall beside 168. Was it the 99 mall? Di pa ako nakarating sa 168, I started buying and buying and buying at the mall where we parked. Wattadeal!
Everything you possibly need and don't need is there in the both malls: 168 and 999.
Para kang mawa-123 at ubos agad ang pera mo sa dami ng puwedeng bilhin. Simply a delight to be there!
Nakakalunod ang dami ang accessories!
I suddenly remembered Shenzen. I'm sure mas mura doon. Yun nga lang. ang layo— airfare, hotel, biyahe— okay na dito.
Hindi lang yun, language is a major problem in Shenzen. Last time I was there, best in action and sign language ako. Hahahaha!
I bought dry squid. Di nila naintindihan ang squid, lalo naman ang pusit. Kaya naman todo pusit ang acting ko…
I just felt while going around, I seemed to be in China.
Kasi naman ang music ng stores, Chinese.
Heto na, there was an announcement from the PA system, aba, it was in English and Chinese. Nangyare?! Bakit walang Tagalog announcement?
Food won't be a problem. On the 4th floor, there are a couple of fast food restaurants to choose from.
Tips:
1. All prices are bound to go down by almost half the price (well, ganun sila sa akin!)
2. If you are planning to buy more than six items from one store, ask for wholesale price. It's quite cheaper by a few pesos. But if you are pressured with the quantity and have no plans to buy more than one, then it's okay.
3. Sadly, Chinese owners give a better deal than the Pinoys. Maybe because they are the owners.
4. Worry not, there is a clean restroom at the 3rd floor. Bring ten-peso coins.
5. It's advisable to have different money denominations for faster transactions. (Pangit naman tumawad nang tumawad sabay abot ka ng 1k)
6. Put money in different pockets. It's advisable to use body bags and put them in front.
7. Patience is a virtue. Learn to canvass before buying. Mura na nga sa store na ito pero puwedeng mas mura pa sa iba.
8. Usually, the clothing stores on the 2nd floor are cheaper.
9. The school supplies are on the 1st floor.
10. Shenzen style: ask price. Ask wholesale price. Give your tawad. Ayaw. Leave. Check other stores.
11. Leave the vicinity before 5:00 p.m. because traffic will be so bad by them. Or, leave after 8:00 p.m.
12. Don't go during weekends.
13. Make a list of the things you need and try to stick to them.
14. Allot two days for shopping. You may return the items that won't fit on the second day.
15. Humility is power. Be pleasant and make friends.
ENJOY THE EXPERIENCE. DON'T BE SHY TO HAGGLE FAIRLY. KEEP IN MIND, THIS IS THE PHILIPPINES, YUN NA!
I just finished my two-night stand-up comedy show, plus, the Forever series has finally started to air before the time slot of 24 Oras. Para akong nanganak, and I am still waiting to see if the people liked my babies. Pumasa kaya sa taste nila?
Doing Candy's Be U? was quite taxing. Other than getting creatively involved, I had to also know something about the various aspects of the show. I have been doing stand-up comedy for so long, but some do not know that I do. There are other people that know but would rather spend their energies in promoting their own family. It's understandable.
I felt like I was starting again…
There were only a few people who believed, and those few made me go through the labor pains and delivery with flying colors.
I have been itching to tell you what I had to go through. After pondering hard about it, I realized that the victory should be highlighted rather than the difficulties.
Sabi ko nga nung finale ng show, if you enjoyed the show please tell your friends about it, if not, then shut up!
And it felt good.
My family, of course, was always ready to save the drowning me.
Mamu, Andrew de Real, the director of my show had his full belief and trust on me. That, put triple pressure on me.
My friends, who never fail to amaze me with their unbelievable support… Gelli, Aiko, and Mina. Hats off to direk Wenn Deramas. He is a friend indeed. Direk Ruel Bayani, despite his pagod and antok, he was present and he watched. Direk Don Cuaresma, who felt kinda trapped in watching, was there to support me. Direk Ricky Davao was also very supportive.
Heto, Inay Malou Choa Fagar, iba ka talaga! Walang sabi-sabi, dumating ka.
GVM, Gina Valenciano-Martinez, I was speechless with how you threshed out my concerns. I was moved.
I was really surprised to see Marvin Querido, kapatid ko 'yan.
Honestly, in times of real deep trouble, one can count with his hand the people that can help revive a sinking ship. I was then a sinking ship. No confidence that I would float.
But because of some people, I am no longer a sinking ship. I am a ship ready to sail. Though wind and high waters may confront me, they can sink me no more. I have anchored my faith to God with the help of people who believed in me, I am ready to sail once again.
Hay, naku! True nga talaga ang sinabi ko sa show na ang problems ko last year ay 'di ko na problems this year. And my major concerns last week are not my major concerns today. Life goes on. Let it be. The world doesn't revolve solely on me. O nga 'no, sama ng loob for those who weren't able to be with me, ganun lang yun…
February na. Valentines na naman. Kakatapos lang magtanggal ng Christmas tree sa mga malls, puso naman ang isasabit nila. For single ladies like me, puwede siyang pressure at puwede rin naman siyang i-treat as FREEDOM!
Pressure Kung papa-affect ako sa mga puso na nakasabit. Impossible naman kasing 'di maapektuhan sa puso. Puso nga kasi. E, kung gawin nilang pusod o puson kaya ang isabit nila nang 'di ako maapektuhan?
Although, it can be stress-free because when you're single, you are not obliged to go out on Valentine's Day and go through that traffic.
I am not a victim, bilang mahal na presyo ng flowers and stuff… I am not affected kung all restaurants are booked and all motels are occupied. Meron din naman palang freedom talaga, wag lang magpaapekto sa commercialism around you.
May partner ka nga, but then again… Kailangan bang sa Valentines lang ang celebration of love? Not necessarily.
It doesn't matter if one is single or not.
What's important is to love the people around you who are always ready to help you.
What's important is to love one's self and appreciate yourself so others may do so, too.
What's important is you are okay for everything around you to be okay. Yun na!
Hello, PEPsters! Happy New Year, Three Kings, and Happy Valentines in advance.
I did promise all PEP readers that I would update my blog more frequently. Sorry po. Just when I decided to start working and put an end to my locked frame, frozen mode, este, tulala segue tamad mode, work started to pour in.
I now truly believe that what you feel and what you think are actually what happens.
There were times when I would blame other people for what happened and is happening to me. At the end of the day, I cant control what other people can do and not do for me. l can only control what l can do to make things happen. Meaning, stop worrying and start moving… Oh yes! Sa pagka-hyper ko na tao, l also have my bad or down period.
Again, even if one prays and prays but doesn't move towards the goal, it's useless.
Naku, PEPsters, I learned a lot and so much recently…
Here's one of my realizations: Faith is an action word.
The "let's move it" attitude made my last quarter of 2012 full and the start of 2013 abundantly blessed with work.
I started taping for this new soap last year. It's a fantasy and romantic story of a couple whose love was separated by death.
Then the couple… sandali, baka naman pag kinuwento ko sa inyo nang bonggang bonggang e di na kayo manood.
Watch kayo ng FOREVER, it's GMA soap opera with Ms. Gloria Romero and Heart Evangelista leading the cast.
Ang role ko, bagong-bago talaga, sidekick of both leads. But, I hold the truth.
Ayun, malapit ko na ma-perfect ang pagiging sidekick. Hahaha!
I hope to really shine in this soap, kumbaga, I am aiming for an award. Ganun daw talaga, one has to say it and claim it for it to happen. Kaya friends, start saying and claiming your dreams and hopes.
Wag mo naman i-claim mamatay yung kaaway mo at baka mag-bounce back sa iyo ang bad vibes. Positivity and good thoughts only…
Also this January 25, 26, and February 1, please join me at Teatrino, Promenade, Greenhills, as we laugh about the realities of life in CANDY'S BE U?
This is under the direction of Andrew De Real. Masaya ito. Promise! Pag di ka natuwa pag nag-watch ka, saktan mo ako. Hahaha!
I'm sure you can relate to the show. At the end of each life's reality, can this be you? Tickets at 1,500.00. Please call TicketWorld at 891-99-99 or Teatrino office at 722- 4501 local 116.
Let the good vibes and positivity flow. Yun na. Go!
Whenever someone is going through some life-altering event— whether it's good or bad— friends do come together and volt in.
I am not sure if this concept was instilled in my generation because of Voltes V, where five friends have to volt in to form the mighty robot who would fight the enemy.
The Voltes V couldn't operate/use its optimum strength if the team isn't complete.
Pag ang kalaban ay major, kailangan mag-split screen into five to show how they'd combine their powers, "let's volt in!"
In my experience, each time I'm undergoing crucial moments, I volt in with friends and family. Kahit di nila alam what I'm going through, I volt in with them. And maybe without me knowing, they volt in with me. There's power in numbers and company.
Pero sa grupo namin nina Gelli de Belen, Carmina Villarroel, and Aiko Melendez, naka-announce all the time na kailangan namin mag-volt in.
AIKO'S "EMERGENCY." Years ago, out of nowhere, Aiko called an emergency meeting. That was when she got pregnant with Andre.
Say niya sa phone, "Walang may alam, ikaw lang." I was in a meeting and rushed to her condo. To my surprise, Gelli and Mina were there as well. Ayun, sinabihan din niya ng, " Walang may alam, ikaw lang." Hahaha!
CANDY'S "S.O.S." Nine years ago, I rang up Gelli because of my separation.
It was then a rainy Sunday. Gelli was in Tagaytay. Aiko was out of the country. Mina, who was feverish, came to see me, and drove by herself.
While I was pouring my heart out, the other two were calling for updates.
Most of the time naman, we just need a break… Let's volt in! Kasi naman, meeting friends recharges one's self.
Meron namang mga volt in na may alinlangan ka sa pag-join.
Sa true Lang, hate ko before si Martin Jickain (ex-hubby of Aiko). But now, love ko na siya. Gelli and Mina had to drag me out of the house to attend the wedding.
Heto na, pagdating namin sa venue, we headed straight to Aiko's room. We locked the doors and talked to her. "Puwede ka pang umatras. Tatakas ka namin. Merong daan sa likod." Laugh lang nang laugh yung Aiko hanggang na-realize niya na serious kami.
VOLT-IN FOR MINA. A few months ago, I got a call from Tita Dolor Guevarra, manager of Mina.
" November 16, wag ka na mag-sked ng iba. This is it na para kay Mina! Buong pagtatakang nagtanong ako, "Huh, ano meron?"
Tita Dolor said, "Magpo-propose na si Zoren, then segue na sa kasal. Kailangan kumpleto kayong apat."
I really felt bad because if fell on the date of my scheduled solo stand-up show in Teatrino. " Tumulong ka na lang sa preparations kung di ka puwede sa 16."
That was how we ended our phone conversation.
After a few minutes, my phone was ringing with calls from Aiko and Gelli.
One week after, I received another call from Tita Dolor about the change of date. Yipee! Makaka-attend na ako.
Fast forward to two days before the wedding, Gelli and I were discussing if we should meet up with Mina before her big day.
Ang dialogue ni Gelli, " Bridal shower na hindi niya alam. Ganun ba ang drama natin? Di ko kaya. Baka maiyak ako pag nakita ko siya."
Preparations, non-stop teleconferencing, assuming, wondering, worrying over nothing, meeting up regarding program, until the wedding…
Aiko got a hotel room near the venue. I went there to get dressed. Gelli had to tape three episodes for Face to Face. Tense na tense kami for Gagay! Forever coordinating kami with each other about our route.
" I will ride with Aiko going to the venue, let's meet up there. Basta Daang Hari yun. I saw the venue nang dumaan ako minsan dun. Tawagan tayo. Please Gagay, hold on to your phone," I told her.
Tawa kami nang tawa ni Aiko habang nasa car papuntang venue kasi kinakabahan kami.
Upon arriving at the venue, I saw a lot of beautiful, good-hearted, and happy faces. Kahit yung mga manong na drivers na nakatambay sa parking, naka-smile. Ang positive ng aura. Ang gaan ng paligid. Walang kokontra!
"Pero bakit wala pa si Gelli?" asked the worried Aiko.
My phone started ringing. It was Gelli!
"Nawawala ako! Nasaan ba 'yang venue? I think lagpas na ako ng Daang Hari.".
I told her, "Balik ka! The venue is within Daang Hari. Hello! Hello… Choppy!"
Gelli: "Grrrr… Stress ako. Di kita … (busy tone)"
Oh no! Parang bakulaw na si Gagay sa phone.
We tried calling her but couldn't get through.
Finally she arrived!
Super poised siya and super smile. Gagay approached us and whispered, "Sumabog ako sa car. Na-stress ako. Okay na. Let's ask what we're supposed to do? Where's Chinky? Aiko na-distribute mo na yung postcards?" say ni Gagay.
After greeting everyone, exchanging hellos, having a quick meeting with the event coordinator, the proposal was about to start. We (Aiko, Gelli, myself, and ate Janice) were watching together at the monitor they provided. We could see what was happening inside.
Gelli: "Okay Ito. Support ko talaga ito. Among all your weddings, ito lang ang wedding na totally approve ako!"
Nagkatinginan na lang kami ni Aiko.
Kinakabahan ako… But I enjoyed the few quiet moments.
I was happy for Carmina, and I was also happy observing the friends of Mina, who were very happy for her.
Honestly, ang daming tearful moments sa buong wedding, and there was a lump in my throat when I saw her dad, the sisters who were trying not to cry, and Mina, walking alonedown the aisle with the twins behind her.
Hindi ako nakakuha ng pictures at all dahil busy naman talaga ako. Sa ceremony, busy ako sa emotions ko. Sa reception, busy ako, bilang host kami ni Gelli.
After the whole affair, nagtago kaming magkakaibigan sa isang sulok sa may garden area kasama namin ang newlyweds. Para kaming nag-quick post evaluation.
Mina just wanted to talk and ask stuff. There, Papa Z told Mina, "Nag-change nga kami ng date kasi di puwede si Candy at meron daw siya show. Kaya today ginawa, instead of tomorrow."
I quickly replied," Ako talaga reason? OA ka naman Papa Z".
"Ano ka ba! Di naman ako papayag na di kayo kumpleto. Di ba, 'Nay [referring to Mina], malulungkot ka kung kulang sila. I decided to move it para complete kayo at nandito ka. Salamat guys, ha," Z said.
I am more thankful, Papa Z, because you gave me the chance to be there. Siyempre sinabi ko lang yun sa heart ko. Ang dami nang nangyari sa buong araw, baka kung hinirit ko pa yun, maloka na si Mina.
I went home with no pictures. My feet were killing me. I was hungry. I was tired and sleepy. But I was happy because I just came from a very memorable volt in!
Hello, PEPsters and tweeps!
I promised my Twitter followers that I would write something about the Korean dramas. So I decided to give you a rundown of my favorites.
Most people would like to watch a good romantic comedy to ease their tiredness and veer their attention away from life's chaos.  I understand naman.
But, as you know, Korean Drama is not all about romantic comedies.
Today, we will focus on the rom-com, the most-liked genre.
Siguro, I like the Oppas because puwede silang gawing crush at walang complications and tsismis.
Out of all the Asian dramas I have watched, I noticed that the Koreanovelas are very particular about promoting careers or professions. It's like subliminally encouraging the viewers to look for a job.
Mas nakakatuwa naman talagang ma-in love sa lalaking may totoong trabaho at pinapakita ang kaalaman nito sa trabaho niya.
Ito ang dahilan kung bakit napro-promote din ang iba't-ibang industry or negosyo nila sa Korea.
After the airing of Kang Sang Woo's Cinderella Man in 2009, where he played a merchant who owns a stall at the Dongdaemun Market, sales of clothes, fabrics and designs increased.
Anyhow, let's review the 2012 Koreanovelas and Films.
Currently airing now is Five Fingers, starring Joo Hi-Hoon, the crown prince sa Princess Hours. I decided to watch this because of him. Well, usually naman sa amin ni Gelli pag di guwapo yung lead, di na namin pinapanood.
The start of the story is rather slow. If you are interested in pianos, this may be of interest to you. Joo Hi-Hoon is a piano genius who will be bullied by his stepmom and half-brother. Honestly, just watch the 1st and 2nd episode, then jump to episode 9 or 10, okay ka pa rin. Ngayon pa lang ako naaaliw sa series na ito.
*******
I'm currently waiting for the last 2 episodes of Innocent Man/Nice Guy. Yes na yes, watch niyo ito. Guwapo na yung bida, exciting pa yung plot.
The cast is very good, especially Song Joong-Ki. Sungkyunkwan Scandal pa lang ay naaliw na ako sa kanya.
Pero dito sa drama na ito, nakaka-in love siya. Familiar ang mga mukha ng mga artista na kasali dito at nakakagulat na ang laki nang hinusay ng mga artistang ito sa pag-arte.
*******
Para sa mga gusto ng romantic comedy pero hindi na gaanong bagets, A Gentleman's Dignity ang swak na swak sa panlasa niyo.
It's about men in their 40s who fall in love but remain as boys forever. I  like how they always start an episode with a flashback, which relate it to . The writers co-relate the flashbacks with the present situations.
*******
In The King 2 hearts: Once again, Lee Seung-Gi has captivated me with his good looks and portrayal. The action scenes of course is once again provided by actress, Han Ji-woo (lead of Secret Garden).
The story is set in an alternative universe where modern South Korea is ruled by a constitutional monarchy. This is a story about uniting North and South Korea by uniting the hearts of two people.
The cultural differences of the two sides of Korea were shown here. The plot was not unusual but it's very entertaining.
*******
The first half of 2012 were all about time travels… Some of them were successful in using the time travel, while others failed to sustain my interest.
Queen In-Hyun's Man used time travel to create conflict and mystery. It's a certified kilig story.
*******
Faith: Another time-travel drama where Lee Min Ho, skilled warrior is the lead male who transported a doctor from the present time to save the queen. It is not as exciting as City Hunter, but how it tackled political war is interesting.
*******
The other star is mainly for Lee Min-Ho's presence.

Love Rain: The first 5 episodes were really very slow. If you are a fan of Jag Keun-Suk, watching the slow episodes may be okay.
It's a love story that started in the 1970s and resumes to the present. If you have a lot of time to spare, go and watch. A certified laugh trip!
*******

Rooftop Prince: Time travel na naman!
The crowned prince travels to the present time to hunt the killers of his princess.
There were a lot of hilarious scenes. If you're after some good laughs, not the storyline,  then this for you.
It was interesting in the beginning, but as plot thickened, the writers seemed to have a hard time reconciling everything.
***

Dr. Jin: Honestly, crush ko lang yung bida…
Pero OA kasi sa blood effect ang pinakita dito. A medical story and a love story rolled into one and time-travel scheme.
A modern-day surgeon was transported to Joseon era, where he cured so many people without the modern-day technology.
I like most parts, but found some of the medical practices featured as impossible.
*******

Fashion King: I was expecting glamor and elegance from this series. Bitin!
The lady antagonist wore beautifully-structured outfits that I looked forward to. The lead guy was such a disappointment though. I don't want to put all the blame to him. The script was also at fault, big time. It was a waste of airtime. Dapat nga, di ko na sinali dito at sayang din space.

********
Dream High 2: The first Dream High was so much better.
There were new characters to look forward to. It was a totally new plot with no relation with the 1st.
What's up: A teeny-bopper story. Para siyang Dream High na ibang genre. Aliw. Walang complications pag pinanood mo, nakakabata.
*******

BIG: Gong Yoo is back after Coffee Prince.
The plot is cute… just for Gong Yoo, who is ultimately yummy.
The soul-switching and body-swap conflict would lead to the discovery of so many truths. I was entertained.
Once again, the writers couldn't end the story logically without disappointing the fans. It has its moments. Go and watch!
*******
I do, I do –It could have been promising…
*******
The Moon Embracing The Sun: This series is highly-rated, and has won an award for Best Drama and Best Actor at the 48thPaeksang Arts Awards.
It's about the love story of a fictional Joseon king and a shaman, plus, the politics they had to go through. I really liked this series. The shaman (manghuhula) character is very interesting. It clearly shows that the Asians are really fond of fortune tellers and magic. A must-watch series.
*******
Wild Romance:It could have been a great series but the female lead was too OA for me (to think OA na ako).
I couldn't find the chemistry between the two leads.
*******
To the Beautiful You: The original Japanese Hanakimi is still the best. This adaptation is a poor loser to the other versions.
*******
Arang and the Magistrate: A love story between a ghost and a magistrate, who can see and speak with ghosts. Very entertaining with unpredictable twist.
*******
Heaundae Lovers: It wasn't good. It wasn't bad. It didn't affect me at all. No catharsis effect.
*******
Equator Man: Interesting.
*******
I Need Romance 2: Bawal sa bata. Relationships. Falling in love and falling out of love.
*******
Bridal Mask: I wasn't able to watch it but it was highly-rated.
*******
Answer 1997: I'm still trying to find time to watch it. Gelli insists that I should. I trust naman her reco. This series is also highly-rated. She really likes it, and has re-watched it na.
*******
There a lot of series kasi na sa sobrang aliw, you will watch it again. May mga ganun talaga.
Just recently re-watched We Got Married's season 1, featuring the JoongBo couple. The same intensity ang aliw ko kina Kin Yun-Jun and singer Hwangbo, who is older than the groom by six years.
We Got Married is a reality show for pretend-to-be-married couples. Korea is really trying to promote marriage since it has high divorce rates.
Next entry, I'll talk about the films  naman at baka sobrang haba na nito.
Pero sa true lang, iba pa ring gumawa ang Pinoys ng teleserye. Nakakatuwa lang kasi sa Korea pag na-touch ang culture or magpakita ka ng mga probinsiya at scenery, subsidized na ng government.
Kaya naman, ang dami nilang nagagawa dahil may subsidy at suporta ng pamahalaan.
Tayo, wala pang ganun, may husay na. What more kung di masyadong corrupt ang mga government officials natin, di ba, then the industry would be so much better and would have a chance to compete globally. Yun na.
Hello, Peeps!
It's been such a looooong time since I wrote something. I just had a wonderful experience and couldn't contain the joy. Naks! Yes, joy indeed… yun nga ang naramdaman ko.
I have never joined trick or treats or Halloween celebrations for simple reasons: matatakutin ako at mabilis umandar imaginations ko.
I can actually count with my one hand all my voluntary horror involvement.  They were mostly in college with friends like John Lapus, Eugene Domingo, Harlene Bautista, etc. We would go to all the horror booths of carnivals during Christmas season.
Even then, wala naman ako masyadong maalala kasi nakapikit ako. Dalawa kami ni Uge na duwag sa ganyan, pero hilig naman namin mag-join. Hahahaha! It must be peer pressure or our naturally-damaged brain.
There was one time the ghosts had to carry Uge and me out of the horror booth. It was at the horror house of Gift Gate in SM Megamall . Medyo nakakahiya pero yung mga multo na yung nagsasabi sa amin na wag matakot dahil hindi kami makakilos ni Uge. As in, kinakalabit kami ng mga naka-costume sa kung saan kami dumadaan.
That's the main reason I never really tried doing trick or treat.  I easily get scared. Walang OA… Natatakot ako sa costumes. Saka I don't want the horns, ugly monsters, devil tails… Ever since I was a kid, I was never amused with them.
Here comes this "Halloween season," where all the ugly masks and costumes are plastered all over the malls, TV, etc. All these stuff promoting fear, ghosts, and such to kids…
I heard my son talking to his yaya, "I want to be a St. Zombie! Or a St. Monster! Huwat? At kelan pa naging santo ang zombie?
I asked my son, "Why do you call the zombie a saint?
My son replied, "I read in the calendar it's All Saints Day, and I want to wear costume too like other kids."
Ay, oo nga… All Saints Day nga pala… E, bakit, yung mga aswang at zombie ang prino-promote natin? I decided to google All Saints Day. It's indeed a day of celebration for all the heroes of mother church that have been inspired and graced by God. Ayun!
Here we go…
Call sa mga friends around the neighborhood… Tara! Let's have a saintly treat for a change. Para positive din yung ma-instill natin sa kids, we decided to attend as saints. Come in your favorite saint or whatever that saint is known for ang theme.
Exciting pala to know the saints related to your name. I had to check on the name meaning and check on the name origin before I can get to look for the related saint. Quite taxing but interesting.
Quentin came as Saint Quentin of Amiens, early Roman Saint and patronage of surgeons, chaplains, tailors, and against sneezes and cough. Steady, di ba…
I came as Saint Candida. Opo, meron palang ganun… Six yata yung St. Candida. I choose St. Candida Maria of Jesus, foundress of the daughters of Jesus. Taray nung foundress!
Kasama din sa happening ang mga super yaya namin ng anak ko. Quentin's Yaya Vanessa came as St. Zita, patron of maids and domestic servants. My yaya Mae came as St. Margaret the Virgin, since Mae came from the name Margaret, patronage for pregnant women, dying, kidney disease, and Malta.
At dahil na-excite ako sa saints related to the names, I decided to check on the names of other artists, celebrities, and friends… Let me share some of the info I gathered.
Direk Wenn : fair and white, Slavonic, name origin is Wenceslas, St. Wenceslaus, duke of Bohemia, patronage Bohemia, Prague
Anna Gianelli Rivera: daming st. Anna… Pati mama ni other Mary, St. Anna. Pero type ni Gelli si St. Anna Kim or St. Anna Pak Gi, na Korean martyr-saints. Taray! Hangang sa santo, Korean! Gianelli, by the way, means enclosed fortress.
John Lapus : gift of Yahweh, St. John the Baptist, patronage teachers and St. John of God, patronage of the poor
Kris Aquino from Christine meaning "follower of Christ," saint Christine of Bolsena, feast day is on July 24, St. Christina is the astonishing patronage of psychiatrist
Piolo Jose Nonato Pascual : I was really looking for the meaning of Piolo but couldn't find any. Jose meaning "God will increase," yung St. Joseph naman, the perfect husband
Carmina Villarroel: Name origin is Carmel, Our Lady of Mt. Carmel, strong and fighter
Wolfgang is Saint Wolfgang, patronage of Strokes
And there's many more!
Why don't you check your name origin, meaning, and the life of the saint associated to it?
Our saintly treat was indeed a joyous event. I finally experienced trick or treat with a twist. I wasn't scared. I felt quite secured. I saw some people giving us strange and awkward looks, trying to figure out why we were dressed as such. The others had our group feeling like an outcast. Kami ba yung outcast? E, kayo nga ang demonyo ang costume… Whew!
Parents, we have to be careful on what we allow our kids to wear and believe. I have nothing against kids going around as zombies. But I personally felt good wearing a costume inspired by a saint. All holy angels and saints in heaven, pray for us
Next Page »